8 images of the old downtown Grand Avenue shopping center
For a brief period, downtown Milwaukee was triggered by "the mall".
For a few years after it opened in 1982, crowds flocked to both the revived Plankinton Arcade and the "new mall" west of 2nd Street. There was a wide variety of national chains and local stores and the place felt alive.
It was like closing 3rd Street between Wisconsin and Michigan and razing many period buildings – hotels, theaters and more – to make room for the mall and, in particular, its many parking structures, had was the right decision.
The summer before I moved to Milwaukee, I was in town visiting my grandparents and had been to the mall the day it opened.
After moving here, I spent a lot of time at the mall. I worked there at Woolworth's and Schwartz Bookshop. My brother worked there too, as did his future wife. I first met one of my best friends there. When, later in the '80s and early' 90s, I worked second shift at the Milwaukee Sentinel, the food court was often my place to dine.
But time nibbled at the stores as people returned to shopping in the suburban malls from which Grand Avenue had tried to lure them.
Thus, visiting it in March 2019 when it was tearing itself apart to make room for new uses that bring hope for the future was a striking contrast.
This story is not unique to Milwaukee. The same operators, for example, saw the same trajectory unfold at the St. Louis Union Station Mall, which, both in its heyday and in its decline, strikingly resembled Grand Avenue.
When I visited in the early 90s, Union Station was bustling and active. Around 2012, there were empty retail spaces alternating with local stores with simple signage and rudimentary facilities. In 2017, I looked through the locked doors of a fully enclosed mall.
Ultimately, Grand Avenue failed to bring a long-term spark to downtown because it turned its back on the street. He attempted to create shelter from the sidewalk rather than embrace it and work together to build a downtown area where people wanted to be.
While the latter would happen, it would be despite the mall, not because of him. A new development facing the street will mean a more lasting change to the downtown area in the form of residences, offices and a new food hall, I expect and I hope so.
In the end, I don't miss the mall as much as what it erased from downtown: a rich stock of rugged, attractive, vintage architecture that could have provided today's Milwaukee with beautiful apartments. , sought-after boutique hotels and other developments in the classic buildings that many believe define us.
But, I'll admit it, I'll always have a soft spot for the mall too. Because, if only for a while, he did his part to bring happiness back to the city.
Here are some photos from the era of the Grand Avenue Mall:
Construction begins, Michigan Street
(PHOTO: Ben Juech)
The shopping center in 1982
(PHOTO: Mark Susina)
Throughout the '80s the mall was leaping
(PHOTO: Unknown, courtesy of Adam Levin / Old Milwaukee Facebook)
It even hosted celebrities like Larry the Legend (October 1983)
(PHOTO: Mark Susina)
Even in 1995 there were auto shows and crowds
(PHOTO: Jeffrey John)
In 2013, things were slowing down; only the food court seemed active
(PHOTO: Andy Tarnoff)
Who could imagine Downtown without the Boston Store?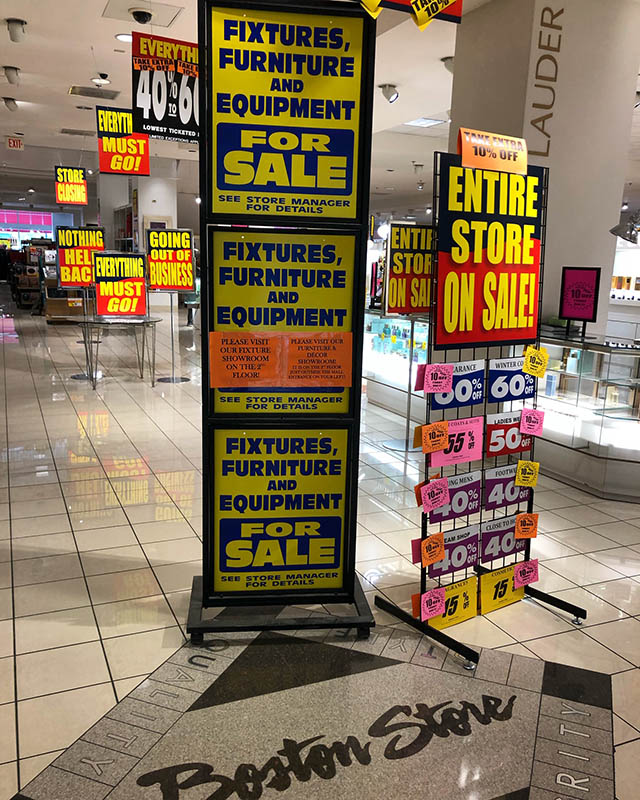 (PHOTO: Andy Tarnoff)
Start of work on the 3rd Street market hall, early 2019
(PHOTO: Bobby Tanzilo)